Back Door Open!
Posted on Jul 04/2014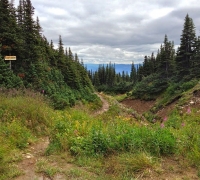 The opening of Backdoor completes the full list of trails to open this year. There was a recent storm since work was done to remove fallen trees on Backdoor so maybe take the first run with a little more caution and report any issues to SMBA. Otherwise trails are in great shape get out there and enjoy them. Remember be respectful of private property owners near the trails and other trail users.
get out & play today!!
No Feature Items at this time
No Clearance Items at this time

Peter Krause

Jill and Heiko