Freeride Trails
Freeride started early in Smithers on the Bluff before freeride was even a term used in biking and has continued to develop thanks to a core group of dedicated people. The recently formed Smithers Mountain Bike Association has formalized this group and opened the doors to funding opportunities which have been used to improve current trails and construct new trails as well.
Northeast Slope Trails aka "The Bluff"
The original freeride trails in the valley. Some of the trails had fallen into disrepair over the last years but recent volunteer work bees and some funding the Smithers Mountain Bike Association was able to access has brought them back up to tip top shape.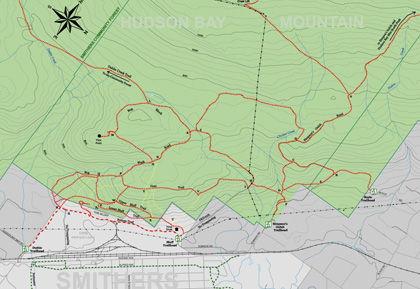 Duthie Access Trail aka "The Board Walk"
This recently rebuilt trail is full of fresh new wood and has turned what was a treachorous and slippery ride up to the bottom of the bluff trails into real enjoyment. The bottom half is completely flat and is used by many different user groups so please excercise caution and watch for other users. The second half is a moderate climb up to the bottom of the bluff trails where the real climb starts.
Uptrack
The uptrack begins where the Access Trail leaves off. The uptrack is new and turns what was a slow push up the old road for most into a trail that zig zags in more gradual switchbacks (relative to the road) up the mountain making it a rideable climb provided you have at least 2 rings on the front. There are still some short steeper grades but if you would like a cardio challenge its a great option. Down hillers and those with heavier bikes may find it quicker to just push up the old road. This trail is restricted to uphill traffic only and is becoming more popular with hikers and walkers. Please be respectful of other trail users at all times.
Penetralia
The easiest trail on the bluff and rideable by most people. A moderate slopes with a series of wide easy rollovers and flowy terrain. At higher speeds it is still a blast for the seasoned rider. Phil who helps out at McBike from time to time likes to sneak in a quick Penetralia as either a warm up or just one last run before calling it a night. Penetralia is accessed from the 'Q' junction about 2/3 of the way up the uptrack.
Smoothie
One of the original bluff trails. Most of the structures have been reworked. Seasoned riders may not recognize it anymore. Somewhat less challenging then it used to be but more flowy now. Novice to Moderate difficulty ride. Smoothie is accessed from the 'Q' junction about 2/3 of the way up the uptrack.
Aunty Flow
One of the first of the new generation bluff trails built around 2007. Aunty Flow is well named it is fast flowing and fairly forgiving. One of the best runs to just let er rip from top to bottom. Upper Aunty Flow is accessed from 'P' junction and is slightly steeper, with tighter turns and a more technical lean to it. Lower Aunty Flow is accessed from the 'Q' junction and is the really fast flowy section of the trail. Several modest sized rollovers not as wide as those on Penetrailia will build up your skill level. There is also a teeter tauter to challenge the bold. Several low board walks and a couple of small jumps are also found on the lower section.
The Shining
Another one of the original bluff trails that has been upgraded. The shining can either be accessed by coming down upper Aunty Flow and turning left at the junction of Upper Aunty Flow, Lower Aunty Flow and the Old Bluff Trail or from 'Q' and then coming across the Old Bluff Trail. Some steep switch backs (or hip jumps depending how you ride them), elevated structures and long log rides make this a trail more suited to an intermediate and up rider.
Four Horseman
Another of the old original trails. Horseman has not recieved alot of love over the years and has become quite a challenge to ride. Very steep in the upper section with some very rough spots as well. There are several off fall-line turns and the trail should be ridden with caution until you are familiar with it. Stunts include a rock drop, gap jump and quite large step down into a hard bermed corner where the trail then turns into Appocolypse. There are ride arounds for all large stunts so if you have the technical skills to ride steep rough terrain you dont need to be able to jump to ride this trail however Horseman should only be attempted by riders with good technical skills. Accessed from 'P' and then a short trek across the top of the bluff.
Appocolypse
Appocolypse is really just the continuation of the Four Horseman but can also be accessed via the Old Bluff Trail. Moderate terrain without much technical skill required. One fairly large wooden gap jump that has a ride around makes this trail easily ridden by a variety of skill level riders. Appocolypse finishes up in the same area as Smoothy and includes the famous bed post drop. What looks larger than it seems yet is one of the smoothest drops around. A great first "real" drop to work up to. If you prefer there is also a large steep rollover as an alternative or there is a ride around to this whole final section of the trail.
Rememberance Day
Another one of the original bluff trails built about mid-way of the first incarnation of the bluff. Some very tight technical rooty and rocky sections. Not an overly fast or flowy trail but very challenging. You will require very advanced technical riding skills to survive this trail in particular the upper section which is very steep. Accessed via 'P' and a short trek across the top.
Schitzo
Built towards the end of the bluff's trails first incarnation this trail was all about pushing the limits. Higher, skinnier, larger was the mantra of the day. This trail is very, very steep and will have your belly kissing your back tire. This is the furthest over of the bluff trails and actually exits on Zobnick road on the opposite end of the bluff. You can also ride a trail back across the bottom to reconnect with the boardwalk trail you probably came up on.
Ptarmigan Road Trails
Huckin Eh!
One of the first of the new generation of trails built in the valley. Emphasis on flow! You can ride this trail fast and get a really enjoyable ride for a seasoned rider or take it slower if you are just learning. This trail should be rideable by all skill levels as their is ridearounds on all features and not many steep sections. For those looking for a challenge there is a large step down, a fairly steep rollover built on a large bolder and a number of smaller jumps and whoops at the top. To access the trail drive up Hudson Bay Mountain Road and then turn left on Ptarmigan Road (right at the switch backs). Turn right on Woodcreek Mainline. About 200M up Woodcreek you will see a pullout on the left, if you are shuttling leave one vehicle here and continue up or park here and ride up the remainder of the road. The trail begins around 3km up the Woodcreek road, you will see another pullout on the left as well as the trail head sign. The trail ends at a 'T' with a horse/quad trail turn left here and head back up the trail to you arrive at the first pullout on Woodcreek. This is a fast trail that is close to town and easy to get 3 runs on after work or a quick run or two at lunch.
Smithers - Huckin Eh - August 29, 2010 from Lee Lau on Vimeo.
Hudson Bay Mountain Trails
Piper Down
This trail is named after the Piper Cub Airplane which crashed on Hudson Bay Mountain a number of years ago and now part of a gap jump stunt over the plane. Access is via Hudson Bay Mountain Road. Drive up past the main Ski Hill Lodge until you reach the green T-bar parking lot. A short hike up the tobogan hill brings you to the trail head. Moderate level difficulty with ride arounds on most features. Some moderately steep sections.
Piper Down - Smithers BC from Lee Lau on Vimeo.
Piper Cross
This trail begins part way down Piper Down where there is a turn off left at the large rock slab. More technical than Piper Down with steep rock slab rides, technical but fast single track and a variety of features. There is one section which has a turn with some exposure to a fairly large cliff face into a gully. Use caution and be aware of your riding skill level. It is advisable to go with others who have been on the trail before your first time up. The trail exits at the parking lot which is just past the gravel pit near the McDonald Lake forest service road and is one of the better shuttle rides. Recommended for later season riding after well after the snow is off the mountain and the trail and rocks have dried up.
Backdoor
By far the longest uninterupted downhill ride in the valley and a lot of fun, when the conditions are right. Early season and after heavy rains this trail is a muddy slippery mess and riding is not recommended. Lots of low, medium width log rides are great for building up your skill on. The lower section has several larger features all with ride arounds. Trail is accessed via Hudson Bay Mountain Road park at the main Ski Hill Lodge and follow the maintenance road up to the right (crosses the T-Bar). The trail begins shortly before you get to the top of the chairlift in what is know as the gully. Trail exits towards the bottom of the ski hill's "trail to town" where there is a parking lot for your shuttle runs.
Backdoor trail - Smithers BC from Lee Lau on Vimeo.
get out & play today!!
No Bike Feature Items at this time
No Bike Clearance Items at this time


Chris George