Finally
Posted on Jul 30/2011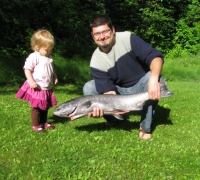 Seems like it has been a very late start to the run but the chinooks are finally showing up in decent numbers. Lots of fish being caught in Moricetown right now. Only a couple days before the bait ban kicks on the Bulkley so get out while its a little bit easier.
Water is quite clear now even though it is still quite high for this time of year.
Also the first fish my 21 month old has seen. Fish are very humorous apparently.
get out & play today!!
No Feature Items at this time
No Clearance Items at this time

Wayne Goss

Wayne Goss - Tail Whip