First Fishing Trip of the Season
Posted on Apr 05/2011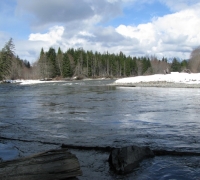 Got itchy to go fishing so I took advantage of my wife's extended spring break and headed to Terrace to go fishing for two days.
Was originally planning on fishing the Copper but on the way into town it was clear that was not going to happen. Full on chocolate milk river was underway. The local stores said it was good fishing there a couple of days previous. So I headed to the Kalum. The river was reasonably clear although the water level was fairly low. The fishing was very slow (didn't catch a thing in two days) and the locals all said the same with very few reports of any catches recently. I only saw about 4 people and 2 boats in the 2 days I was there which is just further evidence it was not happening.
But on the plus side the weather was beautiful and I got to fish my new flies having just taken up fly tying this winter. I'm excited for things to open up here in Smithers, lets hope for warm weather.
get out & play today!!
No Feature Items at this time
No Clearance Items at this time


Camp setup