First Trip of the Season
Posted on Mar 18/2012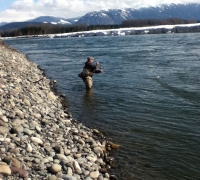 Took a drive down to Terrace with Sam and Jessea. Started off on the Copper around 8am was crisp for sure. Eyelets kept iceing up but not too bad. Water was crystal clear but very low no action.

Headed over to the Skeena after some lunch just found the one nice section but again no fish but it warmed up and was beautiful and sunny. Just nice to be out on the water and see how some of the new stuff I tied this winter swam.
Finished the day checking out the mouth of the Copper nothing really worth fishing down there.

Some people we ran in to said there had been a couple of fish caught but it was pretty slow still. Give it another couple weeks or more.
get out & play today!!
No Feature Items at this time
No Clearance Items at this time

Heiko

Chris George