Time for die hard steelheaders
Posted on Oct 03/2014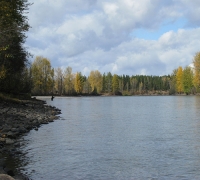 Thursday morning brought heavy frosts and today brings steady rain. Time for the die hards to show their stuff as the fair weather anglers stay home.
Bulkley River
Dry fly fishing has really slowed up and the wet weather in the forecast will not improve that. The rain is expected to bring some color into the water which has been very low and clear up to this point. This could be a good thing to get the fish moving. As the water colors switch up to larger flies in black/blue, black/purple. Reports are things have really slowed down. The very odd Coho out there but that fishery is more or less done for the year. Steelhead is the target species. Please practice good catch and release technique
Morice River Report
Water levels are extremely low hopefully the rain gets things moving a bit. Fishing action here seems a little more consistent than the Bulkley. It's also bear time of the year on the Morice, be careful out there.
Kispiox River
The Kispiox continues to be the most crowded of local rivers. Water was just clearing up and looking good until it started raining today.
get out & play today!!
No Feature Items at this time
No Clearance Items at this time

Peter

Phil